Silent Danger: The Five Crucial Conversations that Drive Workplace Safety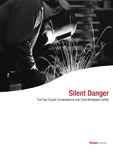 What is the ugly secret behind most workplace injuries?
A Lack of safety training
Poor equipment, policies, or systems
Ignorance
Inattention to risks
SILENCE
In a study of more than 1,600 individuals from 30 organizations, VitalSmarts found that 93% of people say their organization is at risk of an accident waiting to happen because people are either unwilling or unable to speak up.
Download this full research report to gauge whether or not your people are at risk.
See if Your Organization is at Risk.
Request an Assessment
Workplace Safety Events
Watch the workplace safety web seminar with on-demand.
Workplace Safety Resources
See if your organization is in a similar situation as the companies in these videos.
Workplace Safety Resources
News & Media